CHIEFTAIN CRUISES can provide luxury and budget boats for all boat cruises – Corporate Functions, Party and Dinner Cruises, Weddings and Fishing Trips.

Back to Top
CORPORATE FUNCTIONS:
Need to impress that important client? Why not venture out on the water on one of our top quality fully crewed power boats/cruisers or sailing yachts. Luxuriate over lunch or dinner in one of many secluded anchorages in Auckland's Hauraki Gulf. Our charter boat crews are poised to pamper your every need with the finest cuisine complemented by the very best of New Zealand wines. At your request dining can vary from an informal affair to a very lavish feast.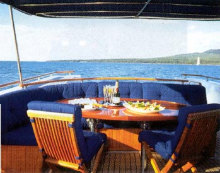 If you are seeking a special venue for a conference or product launch, charter boats are ideal venues away from the hustle and bustle of city life. Presentations cannot be interrupted by landline phones or late-comers AND no one leaves until you have said your piece!
For those with a little more time to spare, why not speed away for a full day's fishing in one of our fast fishing boats. Alternatively combine a spot of fishing in the morning with a sumptuous lunch in a tranquil bay and a stroll or game of cricket on an island beach - all within easy reach of central Auckland. For those who wish to experience the vineyards and restaurants of Waiheke Island, we can provide ferry boats to take you there in style.
PARTY CRUISES
Are you searching for the perfect party venue? Look no further than Chieftain Cruise's wide charter party-boat selection in Auckland. For hire we have large boats, small boats, luxury boats and budget boats – all ideal to suit the different occasions - weddings, corporate events, rip-roaring birthday bashes, social club outings or hen parties.
Once we know the approximate number of guests to be invited, we can email through an immediate quote describing a number of boats suitable for your function. There are charter boats which are strictly "Fully Licensed" and others which permit BYO beer and wine. Give us an idea how you would like to see your boat charter proceed, and we will aim to find the right boat for the right job.

Back to Top
WEDDINGS AFLOAT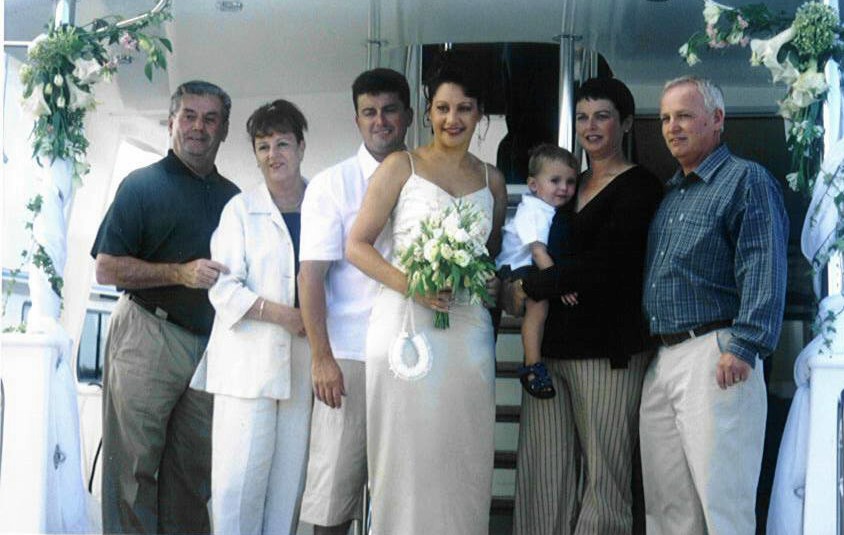 There is nothing to beat the romance of a wedding afloat - waters lapping against the hull, wind singing in the rigging and the sun setting at a tranquil anchorage.
Whether your choice is an intimate ceremony on the decks of a modern luxury cruiser, or under the yardarms of a Scandinavian Tall Ship, Chieftain Cruises can provide luxury power boats and sailing boats with Captain and crew at the ready to ensure your wedding day is a day to remember. Top quality catering and fine wines can be provided to suit your taste and budget. We can assist your florist, photographer and marriage celebrant to make it a fuss free day.

Back to Top
FISHING
Auckland's Hauraki Gulf has unquestionably some of the finest fishing grounds in New Zealand within 20 minutes easy reach of Auckland city.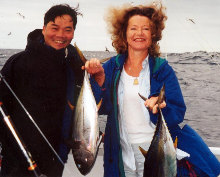 During the warmer summer months the prized species of Snapper, Trevally, John Dory and Yellow Tail Kingfish move closer into the inner Waitemata Harbour, providing some of the very best fishing for anglers at Auckland's doorstep. During the winter months, as the water temperature drops, fish move a little further out from the coast to the inner gulf islands.
Chieftain Cruises has fishing charter boats galore to cater for all your fishing needs anywhere on the coast from Auckland, Bay of Islands to the Three Kings in the Far North.
Facilities vary with each boat, however, and should you not have your own equipment, fishing rods are available for hire from $20 per rod for the day. Bait can also be provided on request.
You may self-cater on many of the fishing boats, and some provide a BBQ for your use. Galley facilities can be basic on some of the older vessels and you would be expected to bring along your own disposable plates, cutlery and glasses. Catering can also be provided on request.
FAQ – Frequently Asked Questions
TERMS AND CONDITIONS
DEPOSIT: Once a firm booking has been made, we would normally request a 33% DEPOSIT within 5 days. (On some vessels this deposit is 50% and is non-refundable).
BALANCE PAYMENT: The date on which the balance payment is due varies from boat to boat. Some larger vessels require the final payment ONE MONTH prior to the charter, whereas the majority request the balance TWO WEEKS PRIOR to the charter. You will be advised of these conditions when you receive your Confirmation of Booking.
PAYMENTS: Cheque payable to Chieftain Cruises or direct credit to Chieftain Cruises Holding Account
A/c Name: Chieftain Cruises Ltd - ASB Bank A/c: 12-3085-0193473-03.
CREDIT CARDS: Visa payments attract a 3% processing fee.
CANCELLATION: If cancellation is made more than 60 days prior to the charter, the deposit will be refunded less cancellation fee (15% of the total charter cost). If less than 60 days is given, the total charter cost is payable.
CATERING CANCELLATIONS: If a charter is cancelled or postponed for any reason, you will be required to pay for and uplift the catering.
WEATHER: In the event your Skipper / Boat operator decides it is imprudent to put to sea due to bad weather, a credit note to the value of all monies paid will be issued which can be used against a future charter within 60 days and subject to availability.
SAFETY: All our vessels come under the umbrella of the New Zealand "Safe Ship Management System", which demands each boat meets stringent standard requirements and carries all the equipment deemed necessary to ensure your safety. Boat captains are fully licensed and chosen for both their people's skills and sound knowledge of New Zealand's cruising grounds.
Operators reserve the right to refuse boarding of any passenger arriving on the vessel in an intoxicated state. No refund will be made in this situation.
FOOTWEAR: White soft soled shoes are recommended for your comfort and safety. No stilettos please.


Back to Top
LIABILITY: Chieftain Cruises Ltd undertakes to perform these services with reasonable care and skill and will not be liable for any loss or damage which results from the act, default or omission of any person other than ourselves, our employees or operators, or any cause independent of human control. This includes (but is not limited to) loss or damage which arises directly or indirectly from any act of God, weather disruptions, on water event postponement, dangers incidental to the sea, fire shipwreck, collision, boating accident, running aground, on board accident, breakdown in machinery or equipment, acts of government or other authorities de jure or de facto, wars whether declared or not, hostilities, civil disturbances, strikes, riots, deaths, pilferage, epidemics, quarantines or medical or customs regulations. Chieftain Cruises cannot guarantee the positioning of the vessel for any on water activity / entertainment. The client agrees to pay for any damage or cleaning costs attributable to them or their guests whilst on board the vessel. The client indemnifies Chieftain Cruises against any claim made by themselves or their guests where such claim relates to loss or damage suffered on the vessel or on account of the Operator's negligence or fault.

Back to Top
Length and Times of Crewed Charters –
Crewed (skippered) charter boats can be hired on an hourly basis with a minimum charter of 3-4 hours. The majority of charter vessels work a minimum of 4 hours on prime nights in the high season. Full day charters are based on 6-8 hour days commencing approximately 8-9am and returning by 4-5pm. Evening cruises generally start from 6pm onwards, the average being 7-11pm, which allows plenty of time for the crew to prepare the vessel after their day charter. Boarding time is 10 minutes prior to a charter.
Bareboat charters are quoted on a 24 hour rate but are based on a minimum of TWO days.

Back to Top
Pick up
The majority of Auckland charter boats are based at either the Viaduct Basin, Pier 3 on Quay Street, downtown Auckland OR a 5 minute drive from the city at Westhaven's Pier Z . A small number of boats are based at Bayswater on the north side of the Harbour Bridge and Half Moon Bay Marina at Buckland's Beach. Pick up is free from the boats' home bases.
Please note fees are now charged by ARC and DOC, based on number of guests, for pick up and drop off at Pier 3, Down Town Auckland, Bayswater, Birkenhead, Matiatia wharf (Waiheke), Motuihe Island wharf, Home Bay wharf, Islington Bay Wharf and Rangitoto Wharf.
Alcohol
All our skippered vessels are fully licensed with a wide selection of fine wines, beers and spirits for purchase from the bar at reasonable rates. Some boats, however, permit BYO (bring your own) beer and wine with a corkage charge to defray costs. On certain boats this corkage charge covers the cost of a bar person and glasses for your charter, but not all provide this service. On some of the very budget party boats, you must bring disposable glasses and ice. On booking a vessel you will be advised of the BYO policy for that particular boat.
Catering
Top quality catering can be provided on any boat to suit your taste and budget and we recommend you sit back and relax while our on-board chefs show off their culinary skills. Dining can be an informal affair or a lavish feast. The choice is yours. It is also possible to self-cater on some of our vessels. Galley facilities and a BBQ can be provided but, as catering staff are not being provided by the boat, you would be expected to clean up during and after the charter. In most cases you would need to supply disposable plates, crockery and rubbish bags. Some boats charge a bond for BYO catering or a BBQ cleaning fee.
Music
All party boats these days are equipped with a good quality sound system, into which you can plug an ipod. A lively DJ or jazz band can be organised on your behalf.

Back to Top