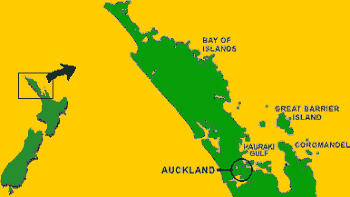 COME AND ENJOY the relaxed magic of New Zealand's coastline - endless stretches of unspoiled beaches, dozens of small islands and secluded anchorages unmatched anywhere on the globe.
See photos of Bay of Islands and Auckland Harbour (Hauraki Gulf)

Hauraki Gulf
Auckland's Hauraki Gulf is without question one of the best cruising areas in the world. Within easy reach of Auckland's marinas are beautiful islands and bays that provide shelter in almost all conditions. It is possible to spend weeks within the safe confines of the Gulf enjoying infinite variety of scenery and sea life.
The eastern side of the Gulf is formed by Coromandel Peninsula, a very historical gold mining area with many points of interest. To the North lies Kawau Island, a popular boating stopover and to seaward is the largest island in the Gulf - Great Barrier, which has several large sheltered harbours on its protected landward side.
Below: Great Barrier Island: Port Fitzroy and East Coast.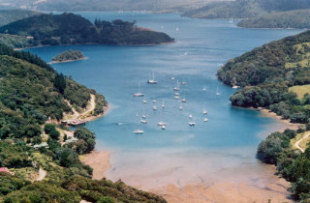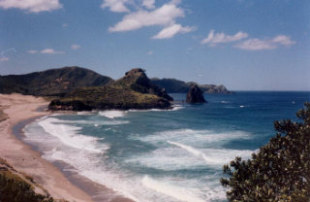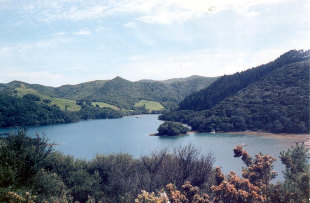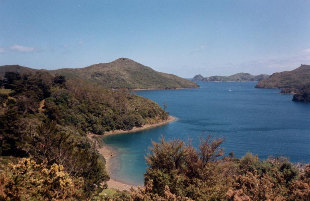 Below: Left: Garden Cove, Waiheke Island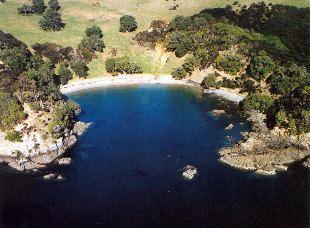 Bay of Islands
New Zealand's Bay of Islands is without doubt one of the premier boating and cruising areas of the South Pacific. Found on the northeast coast of the North Island, it offers a large, safe and secluded natural harbour with many small islands and delightful anchorages.
It is an area of great historical and spiritual significance to the people of New Zealand. The township of Russell was the first colonial capital of New Zealand and nearby at Waitangi is the site of the signing of the Treaty of Waitangi, the founding agreement between the indigenous Maori people and the European settlers. The Bay of Islands is an easy coastal trip from Auckland which can be done in as little as 2 days - or as long as you like, taking it in relaxed stages, staying in the numerous picturesque and safe harbour anchorages up the coast.
(Work in progress - more photos will be inserted soon)
Below: Sunset at Bay of Islands