Experience the true magic of New Zealand's coastline. From Auckland to Whangaroa in the Far North, the coast boasts endless stretches of unspoiled beaches, dozens of small islands and secluded anchorages.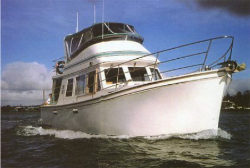 Take off for the holiday of a lifetime! Hire a bareboat (self-drive) power boat or sailing yacht and take control of your destiny! A skipper's licence is not required, but wide boating experience is essential.
Chieftain Cruises has a wide selection of bareboat (u-drive-boats) charter boats available for rental from Auckland, Gulf Harbour and the Bay of Islands (during the summer months).
Charter Limits - The Charter limits for most boats include the Hauraki Gulf from the eastern side of the Coromandel including the Mercury Islands, down as far as Whitianga, the western side of Great Barrier Island up the coast to the Bay of Islands, Northland including Whangaroa Harbour, the Cavali Islands and the Bay of Islands.
The Bay of Islands is an easy coastal trip from Auckland which can be done in as little as 2 days - or as long as you like, taking it in relaxed stages, staying in the numerous picturesque and safe harbour anchorages up the coast